From The Ashes of PUNISHER, FrankenCastle Rises & Sells Out!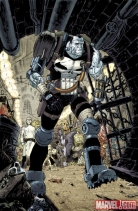 The Punisher is dead — long live FrankenCastle! Marvel is pleased to announce that Punisher #11, the first appearance of the all-new FrankenCastle, has sold out at Diamond (though copies may be available at the retail level) and will return to press with Punisher #11 Second Printing Variant. Acclaimed Punisher scribe Rick Remember and fan favorite artist Tony Moore reunite for the greatest epic in the (after)life of the Punisher! Daken, son of Wolverine, killed Frank Castle… so just who or what is FrankenCastle? Man-Thing, Morbius and more guest-star to bring about the biggest, most unexpected twist in Punisher history—and this is only the beginning! Punisher #11 Second Printing Variant features the dynamic interior art of Tony Moore on a new cover!
"I'm eagerly awaiting the next issue to see where Remender and Moore plan on taking it from here. This is going to be one crazy ride and I can't remember the last time I was this excited for a Punisher story."—Miguel Perez, IGN.Com
"This is pure pulpy comic gold…Let the comics readers rejoice, because as this fun book proves – anything is possible in the world of comics."—Lee Newman, BrokenFrontier.Com
"It's magically, deliriously ridiculous. And very, very good."—Timothy Callahan, ComicBookResources.Com
Marvel urges retailers to check their orders on Punisher as the series continue to sell out and generate buzz! Don't miss the debut of FrankenCastle in Punisher #11 Second Printing Variant!
PUNISHER #11 SECOND PRINTING VARIANT (OCT098128)
Written by RICK REMENDER
Penciled by TONY MOORE
Cover by TONY MOORE
Parental Advisory …$2.99
FOC—12/3/09, On-Sale—12/23/09
To find a comic shop near you, call 1-888-comicbook or visit www.comicshoplocator.com