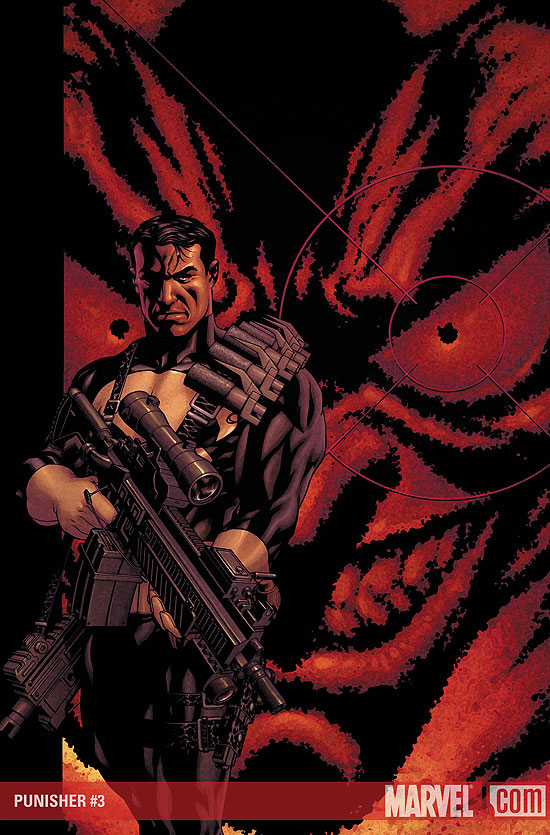 Frank Castle is waging war on Norman Osborn.  However, the head of H.A.M.M.E.R. is not going to be easy to take down, at least not while he's got bodyguards such as the Sentry and Ares to cover his back.  So Frank is having to change tactics from what he's used to and fight a different type of war.  One that involves exposing Osborn for what he truly is: a cold blooded, maniacal killer.  With the help of a computer genius named Henry, the Punisher has taken his propaganda war directly to Osborne and has scored several good victories.  But that's all about to change as Osbourne calls in a favor from a certain hooded villain to help bring Frank down.
Rick Remender and Jerome Opena are turning up the heat with this new series! The first two issues have been packed with action and this issue is no exception. The story is fast-paced and exciting and I really feel like I got a lot of bang for my buck. Remender has done an incredible job taking over the Punisher reins from Matt Fraction. His kinetic style of writing matches really well with this character. He get's the story rolling quickly and then seems to let the action take over. I love the way he keeps the Punisher human and quickly shows that he is not invincible and can be taken down. He starts the first issue out with Frank getting his butt handed to him by the Sentry and having to rely on an outside source for help, which I thought was a great way to open up the series.
The art from Jerome Opena is just simply unbelievable! Opena's gritty and raw pencilwork is a perfect match with the Punisher and Remender's writing. The amount of detail that he puts into each of his pages is incredible. I was absolutely blown away by his first issue and he hasn't let up the pace yet! This issue features some wonderfully rendered fight and chase scenes that really showcase Opena's style.
In conclusion, I give this issue, as well as this series so far, a very solid A. The story is well written, the art is wonderfully rendered and hopefully it will be sticking around for a while. Remender and Opena are both well suited for this type of book and as long as they are on it, I have a feeling I will keep picking it up.
COVER BY: MIKE MCKONE
WRITER: RICK REMENDER
PENCILS: JEROME OPENA
COLORED BY: DAN BROWN
LETTERER: VC'S JOE CARAMAGNA
EDITOR: AXEL ALONSO
Parental Advisory …$2.99
To find a comic shop near you, call 1-888-comicbook