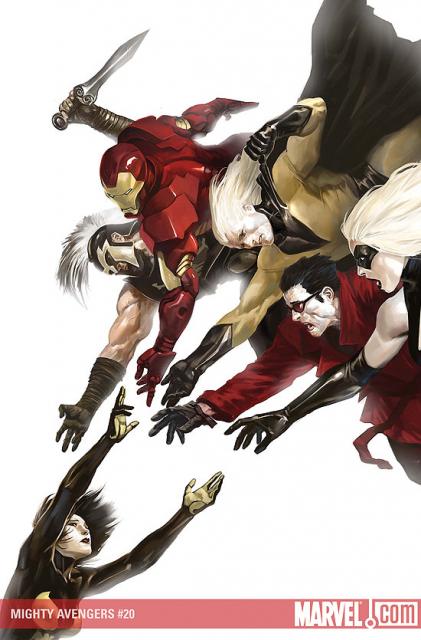 Since returning to Earth after being held captive by the Skrulls, Hank Pym has found the his world completely changed.  The superhero Civil War has divided many of his old teammates and allies.  Captain America is dead.  The Skrulls failed an attempted invasion of Earth which resulted in the death of the woman he loved, Janet Van Dyne, and has left his reputation in question.  Now, facing life in a world he no longer recognizes and dealing with the anquish of having to bury his wife, who can Hank place the blame for all of these events on?
Mighty Avengers #20 draws to a close the Secret Invasion event for this seris and sets the stage for Dark Reign.  Writer Brian Michael Bendis and artists Lee Weeks, Jim Cheung and Carlo Pagulayan deliver a heartbreaking story that, in my opinion, was Bendis' best tie-in to this event.  The story opens up in the past with Hank and the Wasp when they were on the first Avengers team discussing the discovery of the frozen Captain America and how much the world has changed since he was last seen.  We also get a glimpse at how much the two were in love with each other at that time.  Flash forward to the present and we find a distraught Hank Pym, along with Ms. Marvel and Wonderman, making Janet's funeral arrangements.  Upon leaving the meeting, Carol fills Hank in on all the events, including Civil War, World War Hulk and Secret Invasion, that have occurred since his abduction.  At Janet's funeral, Hank makes it very clear who he blames for these events.
I thought Bendis did an excellent job bringing out the emotion in this issue.  Jan's death in Secret Invasion #8 didn't sit that well with me.  For a character with her history, I thought she deserved a little bit more of an emotional response from the other heroes.  I feel this issue gave us that emotion, especially with Hank.  His response at the funeral felt very real and I thought it was well written.  I loved the way Bendis compared Hank's return with Captain America's in Avengers #4, being a man out of his time.  It really helped build on the emotional side of the story and helped me pick up on what Hank must be going through.  My one complaint with this issue would have to be the events flashback pages.  The art from Jim Cheung was very well done, but they just felt a little out of place with the story.
Speaking of the art, all three artist delevered solid work here.  I especially liked Carlo Pagulayan's pages for the funeral scene.  Each panel was wonderfully detailed and, I may be sounding like a broken record here, really had great emotion coming from each of the characters involved.  Lee Weeks opened up the story beautifully with the flashback sequence featuring Hank and Janet in their original costumes.  Jim Cheung had the smallest part of the story, but as I said above, drew some really nice pages giving us a quick look back at Civil War, World War Hulk and Secret Invasion.
Bendis ends his run on this series in style and sets up for Dan Slott to take over with issue #21.  I wasn't too crazy with the other Mighty Avenger Secret Invasion issues, but this issue really made up for those in my opinion.  As a whole though, I have really enjoyed this series so far and look forward to seeing were Slott and artist Khoi Pham take the book!
COVER BY: MARKO DJURDJEVIC
WRITER: BRIAN MICHAEL BENDIS
PENCILS: LEE WEEKS, JIM CHEUNG & CARLO PAGULAYAN
INKS: LEE WEEKS, JIM CHEUNG & JEFFERY HUET
COLORED BY: DEAN WHITE AND JASON KEITH
LETTERED BY: DAVE LANPHEAR
EDITOR: TOM BREVOORT
Rated A…. $2.99
To find a comic shop near you, call 1-888-comicbook